The Best Chess of 2017
January 10, 2018
The best chess of 2017 has been voted on by Chessbase members and presented today by Macauley Peterson:
https://en.chessbase.com/post/best-of-2017-poll-results
The Move of the Year
The startling pawn sacrifice 33…f6!! by Narayanan Sunilduth Lyna
Swiercz, D. vs Sunilduth Lyna, Narayan
Aeroflot Open A 2017
Rd 4, Feb. 24, 2017
Position with White to play his 33rd move: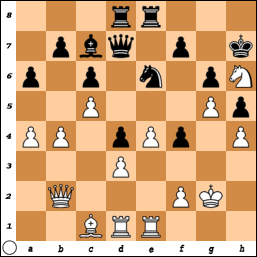 33.e5 f6 34.exf6 f3+ 35.Kg1 Nxg5 36.Qa2 Qh3 37.Qg8+ Rxg8 38.Re7+ Kh8 0-1
The Endgame of the Year
Carlsen, Magnus – MVL
Sinquefield Cup 2017
Round 4, Aug. 5, 2017
Position after Black's 48th move: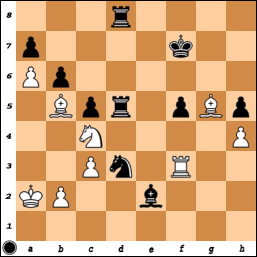 48...Be2 49.Bxd8 Bxf3 50.Bxb6 axb6 51.Bc6 Be4 52.a7 Rd8 53.Nd6+ Rxd6 54.Bxe4 Rd8 55.a8=Q Rxa8+ 56.Bxa8 Ne5 57.Kb3 f4 58.Kc2 Kg7 59.Kd2 Ng6 60.Kd3 Nxh4 61.Ke4 f3 62.Ke3 Kf6 63.b4 c4 64.Bd5 Kf5 65.Bxc4 Kg4 66.Kf2 Ng6 67.Be6+ Kf4 68.Bf7 Ne5 69.Bxh5 Nd3+ 70.Kf1 Kg3 71.Bf7 Nf2 0-1
The Game of the Year
Bai Junshi – Ding Liren
Chinese Team Championship
Round 18, Nov. 4, 2017
E21 Nimzo-Indian, Three Knights variation
1.d4 Nf6 2.c4 e6 3.Nc3 Bb4 4.Nf3 O-O 5.Bg5 c5 6.e3 cxd4 7.Qxd4 Nc6 8.Qd3 h6 9.Bh4 d5 10.Rd1 g5 11.Bg3 Ne4 12.Nd2 Nc5 13.Qc2 d4 14.Nf3 e5 15.Nxe5 dxc3 16.Rxd8 cxb2+ 17.Ke2 Rxd8 18.Qxb2 Na4 19.Qc2 Nc3+ 20.Kf3 Rd4 21.h3 h5 22.Bh2 g4+ 23.Kg3 Rd2 24.Qb3 Ne4+ 25.Kh4 Be7+ 26.Kxh5 Kg7 27.Bf4 Bf5 28.Bh6+ Kh7 29.Qxb7 Rxf2 30.Bg5 Rh8 31.Nxf7 Bg6+ 32.Kxg4 Ne5+ 0-1
Final position in Bai Junshi – Ding Liren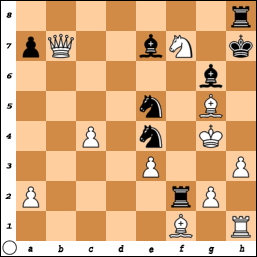 Female Player of the Year
Hou Yifan with runners-up Anna Muzychuk and Ju Wenjun
Hou overcame the scandal surrounding her thrown game protest in Gibraltar and won largely due to her standout performance in Biel. Anna Muzychuk was a big vote-getter with some noting her principled standing against the awarding of the Blitz and Rapid Championships to Saudi Arabia
Player of the Year
Levon Aronian with runners-up Magnus Carlsen and Vishy Anand
Levon won Norway Chess, The Grenke Chess Classic, the World Cup and the Grand Prix in Palma de Mallorca. The World Cup win meant that he will also be making a return to the Candidates coming up in March in Berlin.
See also:
http://forum.chesstalk.com/showthrea...016#post109978
________
http://forum.chesstalk.com/showthrea...ight=game+2016
Posting #136