Bongcloud Opening
September 30, 2020
Thank you, Stephen.
Friendly Blitz Game
Zurich, SWI, 1965
Keres, Paul – Bronstein, David
C33 King's Gambit Accepted, Keres Gambit
1.e4 e5 2.f4 exf4 3.Nc3 Qh4+ 4.Ke2 d5 5.Nxd5 Nf6 6.Nxf6+ gxf6 7.Nf3 Bg4 8.d3 Bh6 9.Qe1 Qh5 10.Qb4 Nc6 11.Qxb7 Bxf3+ 12.gxf3 Nd4+ 13.Kd2 Nxf3+ 14.Kc3 Qc5+ 15.Kb3 Nd4+ 16.Ka4 O-O 17.c3 Qb6 18.Qxb6 axb6+ 19.Kb4 Ra4+ 20.Kxa4 Ra8+ 21.Kb4 Bf8+ 22.Kc4 b5+ 0-1
Final Position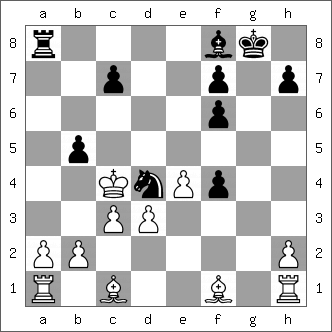 In deference to our finer feelings, I would ask no one to play this game over. How about that debate, eh?
_________
33rd USSR Championship 1965
Talinn URS
Round 13, December 13, 1965
Bronstein, David – Bikhovsky, Anatoly
C33: King's Gambit Accepted, Keres Gambit
1.e4 e5 2.f4 exf4 3.Nc3 c6 4.Nf3 d5 5.d4 dxe4 6.Nxe4 Nf6 7.Qe2 Nxe4 8.Qxe4+ Qe7 9.Qxe7+ Bxe7 10.Bxf4 Bf5 11.O-O-O O-O 12.Bc4 Nd7 13.Rhe1 Rfe8 14.d5 Nb6 15.dxc6 bxc6 16.Ba6 Bc8 17.Bxc8 Raxc8 18.Nd4 g6 19.c3 Kg7 20.Kc2 a6 21.b3 c5 22.Nf3 Bf8 23.c4 f6 24.Bd2 Rxe1 25.Bxe1 Kf7 26.Ba5 Rc6 27.Rd8 Be7 28.Rh8 h5 29.Rh7+ Ke8 30.Rh6 Kf7 31.Nh4 f5 32.Nxf5 Bf8 33.Rh7+ Kg8 34.Ne7+ Kxh7 35.Nxc6 Nd7 36.Kd3 Bd6 37.h3 Kg7 38.Bc3+ Kf7 39.Ke4 Ke6 40.Nd8+ Ke7 41.Nb7 Ke6 42.Nd8+ Ke7 43.Kd5 1-0