Women's World Chess Championship 2020
January 5, 2020
From FIDE:
Women's World Chess Championship Match in Shanghai kicked off with an opening ceremony and a press conference, attended by the current champion Ju Wenjun (China) and the title contender Aleksandra Goryachkina (Russia), as well as FIDE, Russian and Chinese Federations' officials, local and foreign press.
The biggest prize fund—500,000 euros—in the history of women's world chess championship brings greater emphasis on women's chess and represents a shift in priorities. This Championship commits to a new strategy adopted by FIDE in 2018 of ensuring that the women's championship cycle is similar to the men's.
FIDE VP Nigel Short spoke about the history of championship matches split into games played in different countries. In Shanghai, the players will face-off in six games from January 5 to 12. The second half of this Championship—the remaining six rounds—will be played in Vladivostok, Russia, from January 16 to 23. The tie-break, if needed, and the closing ceremony will be held in Vladivostok on January 24.
In the drawing of lots conducted by Chief Arbiter IA Shohreh Bayat (Iran), Goryachkina picked a white hand fan and will have White in the first round. After the sixth game, colors must be reversed, so Ju Wenjun will play White in games 6 and 7.
Her opponent Ju Wenjun wasn't dismayed and said she became a stronger player in the past two years and feels confident with her hometown advantage.
Game 1 is set for Sunday, January 5, 15:30 (Shanghai time). This is 2:30 AM in Toronto/Montreal.
https://wwcm2020.fide.com/tpost/hpal...nship-starts-o
The first game of the Women's World Chess Championship 2020, held in Shanghai, China, ended with a hard-fought draw.
Ye Jiangchuan, President of the Chinese Chess Federation, and Alexandr Shmanevskiy, Consul General of the Russian Federation in Shanghai, made the first symbolic move in the game.
The opening was as cautious as it gets: Alexandra Gorychkina (Russia), playing White, chose 1.d4 as her first move. Instead of her usual Ragozin defense, defending champion Ju Wenjun (China) surprised with 4.Be7. The challenger decided to go then for a solid Catalan with 5.g3.
The impression is that Goryachkina tried to take the game out of the book as soon as she could, and despite the symmetrical and equal position, she managed to put some pressure on the champion. In fact, an inaccuracy by Ju Wenjun gave the Russian the opportunity to gain an advantage, and for a while, the challenger seemed to be playing cat and mouse with the Champion, only to squander it with an untimely rook exchange on move 44. After this scuffle, Ju stoically defended for the next 50-plus moves, before the draw was agreed right before they reached the sixth hour of play.
In the press conference held after the game, Ju complimented Goryachkina's fighting style, looking to exploit even the minuscule of chances. On her part, Goryachkina was content with opening the match by putting the world champion on the ropes for 97 moves and close to 6 hours.
Game Two is tomorrow, January 6, and Ju Wenjun will have White.
Game 1, January 5, 2010
Goryachkina, Aleksandra – Ju, Wenjun
D37 QGD
1.d4 Nf6 2.c4 e6 3.Nf3 d5 4.Nc3 Be7 5.g3 O-O 6.Bg2 dxc4 7.Ne5 c5 8.dxc5 Qxd1+ 9.Nxd1 Bxc5 10.O-O Nc6 11.Bxc6 bxc6 12.Be3 Bb6 13.Bxb6 axb6 14.Nxc6 Bb7 15.Nb4 Nd5 16.Nxd5 Bxd5 17.Nc3 Bc6 18.Rfd1 Rfd8 19.f3 Kf8 20.Kf2 Ke7 21.Rxd8 Rxd8 22.Ke3 e5 23.Rd1 Ra8 24.a3 Ke6 25.Na2 Ba4 26.Rd2 f6 27.Kf2 Bc6 28.e4 g6 29.Ke3 f5 30.exf5+ gxf5 31.f4 h5 32.fxe5 Kxe5 33.Rd4 b5 34.Nc3 Ra7 35.Ne2 Be8 36.Rd8 Re7 37.Nf4 Kf6+ 38.Kd2 Re5 39.Nd5+ Kf7 40.Rd6 Bc6 41.Nf4 Bf3 42.h4 Bg4 43.Rd5 Kf6 44.Rxe5 Kxe5 45.Ke3 Bd1 46.Ng6+ Kf6 47.Nf8 Ke5 48.Nd7+ Ke6 49.Nb8 Kd5 50.Na6 Ke5 51.Nb4 Bg4 52.Nc2 Bd1 53.Nd4 Ba4 54.Ne2 Bd1 55.Nd4 Ba4 56.Nc6+ Kd6 57.Nd8 Ke5 58.Nf7+ Ke6 59.Ng5+ Ke5 60.Nh3 Bd1 61.Nf4 Bg4 62.Ng2 Bd1 63.Ne1 Bg4 64.Nc2 Bd1 65.Nb4 Ba4 66.Na2 Bb3 67.Nc3 Ba4 68.Kf3 Kd4 69.Ke2 Kc5 70.Ke3 Bc2 71.Ne2 Bd1 72.Nd4 Bg4 73.Nc2 Bd1 74.Nb4 Bg4 75.Na2 Bd1 76.Kd2 Bf3 77.Nc3 Bc6 78.Ke3 Bd7 79.Ne2 b4 80.axb4+ Kxb4 81.Kd2 Bc6 82.Nf4 Bf3 83.Ne6 Bg4 84.Kc2 Bf3 85.Nd4 Bg4 86.Kd2 Kc5 87.Ke3 Kd5 88.Nb5 Kc5 89.Nc3 Kb4 90.Kd4 Kb3 91.Nd5 Be2 92.Ne3 Bd3 93.Kc5 Be2 94.Kd5 Bd3 95.Kd4 Be2 96.Kc5 Bd3 97.Kd4 1/2-1/2
Final Position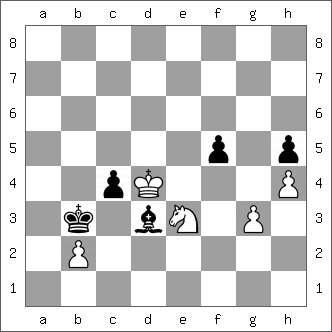 ______________
Peter Doggers (tweet) -
The main differences between the women's world ch match and the 'regular' one:
- lower prizes;
- 12 games instead of 14;
- faster time control;
- no rule against offering a draw before move 30.
I'm curious why, @FIDE_chess?