Abe Yanofsky Tribute
March 26, 2020
ChessBase today has a tribute to Abe Yanofsky on the 95
th
anniversary of his birth.
It is by Max Berchtenbreiter and can be read at:
https://en.chessbase.com/post/abe-ya...st-grandmaster
An excerpt:
In the second half of the 1940s Yanofsky participated in several top tournaments in Europe, including the famous Staunton Memorial in Groningen in 1946, which started the era of Soviet dominance in chess. In Groningen the 21-year-old Yanofsky defeated the eventual tournament winner Mihail Botvinnik, who was to become World Champion two years later, and this win is probably Yanofsky's most famous game.
Groningen, Netherlands
Round 15, September 2, 1946
Yanofsky, Daniel A. – Botvinnik, Mikhail
C99 Ruy Lopez, Closed, Chigorin
1.e4 e5 2.Nf3 Nc6 3.Bb5 a6 4.Ba4 Nf6 5.O-O Be7 6.Re1 b5 7.Bb3 d6 8.c3 O-O 9.h3 Na5 10.Bc2 c5 11.d4 Qc7 12.Nbd2 cxd4 13.cxd4 Nc6 14.d5 Nb4 15.Bb1 a5 16.Nf1 Bd7 17.Bd2 Rfc8 18.Bxb4 axb4 19.Bd3 Bd8 20.Qd2 Qa5 21.Ne3 b3 22.a3 Qa4 23.Nd1 b4 24.Ne3 bxa3 25.Rxa3 Nxe4 26.Qd1 Qb4 27.Rxb3 Qa4 28.Bc2 Nc5 29.Rc3 Qb4 30.Qb1 g6 31.Rc4 Qb7 32.b4 Na6 33.Rxc8 Rxc8 34.Bd3 Nxb4 35.Re2 Ba5 36.Rb2 Rb8 37.Nd2 Qa7 38.Ndc4 Qc5 39.Nxa5 Qxa5 40.Nc2 Nxd3 41.Rxb8+ Kg7 42.Ne3 Qd2 43.Qf1 Nc5 44.Qd1 Qc3 45.Rb6 Ba4 46.Qf3 Qe1+ 47.Kh2 f5 48.Rxd6 f4 49.Nf5+ Kf7 50.Qg4 Ne4 51.Qh4 gxf5 52.Qxh7+ Ke8 53.Qg8+ 1-0
Position after Botvinnik's 38….Qc5?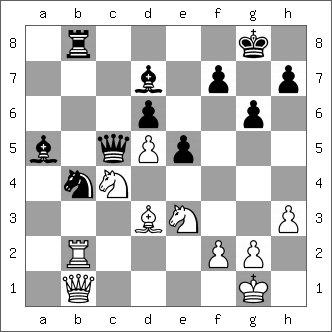 It ends with the obituaries in The Winnipeg Free Press and The New York Times:
DANIEL ABRAHAM YANOFSKY
BORN: MAR 26, 1925
DATE OF PASSING: MAR 05, 2000
OFFER CONDOLENCES OR MEMORY MAKE A DONATION TO CANCERCARE MANITOBA FOUNDATION
CancerCare Manitoba Foundation
DANIEL ABRAHAM YANOFSKY Peacefully, on March 5, 2000, Daniel Abraham (Abe) Yanofsky passed away at Seven Oaks Hospital at the age of 74 years. Abe was predeceased by his father Abba, his mother Mary, and his brothers Israel and Harry. He is survived by his loving wife Hilda; his children Michael (Andrew), Heather, Rochelle, and Audrey, and their spouses; granddaughters, Courtney, Katie, Jenna, and Stephanie; grandsons, Andrew, Jeffrey, Adam, and Gregory; and numerous, nieces, nephews, and friends. Abe was born in Brody, Poland on March 26 1925 and came to Canada when he was one year old. After his father died in 1938, Abe assumed the position of family provider, working at various jobs during the day and attending public school at night until he completed high school. While attending university, he worked at night to help cover expenses. He served in the Royal Canadian Navy during the Second World War. Abe was accomplished in many fields. He was a "chess" child prodigy at the age of 11 years. He went on to become Canadian Chess Champion eight times, North American Champion, and later on British Chess Champion. He beat the World Champion, Mikhail Botvinnik in 1946 and became Canadas first Chess Grandmaster in 1964. For the next 20 years he was among Canadas top players. In 1972, he was awarded the Order of Canada by the Governor General in recognition of his achievements. Abe was actively involved in local politics from 1961 to 1986. He was an alderman and Mayor of the City of West Kildonan between 1961 and 1970 and a Councillor and Finance Chairman of the City of Winnipeg from 1971 to 1986, when he retired from politics. He was a key player in the conception and development of the Seven Oaks General Hospital and the Wellness Institute. In addition, Abe was a well-known lawyer from 1951 until 1997 and was appointed to Queens Counsel in 1980. Abe's family would like to thank Dr. Sheldon Koven, Dr. Ernie Ramsey, Dr. John Rabson and all of the doctors that cared for Abe. Special thanks also to the staff at Seven Oaks General Hospital, CancerCare Manitoba, and Medox for their help and compassion. Abes funeral will be held on Tuesday, March 7 at 2:00 p.m. at the Chesed Shel Emes Chapel, 1023 Main St. Interment in Shaarey Zedek Cemetery. In lieu of flowers, donations may be made to CancerCare Manitoba, the Canadian Diabetes Association, or Us Too (a prostate cancer support group affiliated with CancerCare Manitoba).
Daniel Yanofsky, 74, Canadian Chess Champion
By Dylan Loeb McClain
March 10, 2000
Daniel Abraham Yanofsky, Canada's first chess grandmaster, died on Sunday at Seven Oaks Hospital in Winnipeg, Manitoba. He was 74.
His wife, Hilda, said the cause was cancer and congestive heart failure.
Mr. Yanofsky, who was called Abe, was born in Brody, Poland, on March 26, 1925. His family moved to Canada when he was less than a year old.
When he was 8 his father bought a chess set. The youngster quickly took to the game, gaining a local reputation as a prodigy. At age 11 he gave a simultaneous exhibition, playing 22 people at once. He won 17 games and lost five. At 12 he was champion of Manitoba and played in the national championship, placing fourth.
At 14 he was picked to be Canada's No. 2 player in a chess Olympiad in Buenos Aires. Even though he was the youngest participant in the event, he scored 85 percent, attracting the notice of Alexander Alekhine, then the world champion.
In 1941 Mr. Yanofsky won the Canadian championship for the first of eight times. In 1946 he defeated Mikhail Botvinnik in an individual game. Mr. Botvinnik was crowned world champion two years later. While studying law at Oxford University in the early 1950's, Mr. Yanofsky won the British championship.
In 1964 Mr. Yanofsky was awarded the highest title in chess: international grandmaster.
In addition to chess, Mr. Yanofsky had a successful career as a lawyer and politician. He was mayor of West Kildonan, a suburb of Winnipeg, before it was incorporated into the city in 1970. After that, he served on the City Council from 1970 to 1986.
For his achievements, Mr. Yanofsky was awarded the Order of Canada in 1972.
In addition to his wife, the former Hilda Gutnik, he is survived by his four children, Audrey Rubin, Dr. Rochelle Yanofsky, Heather Gordon and Andrew Wyatt, and by eight grandchildren.
Samuel Reshevsky wrote in his book ''How Chess Games Are Won'' that Mr. Yanofsky was a tough opponent. ''His style is defensive but quite accurate,'' he wrote. ''When given the slightest opportunity, he is strong enough to beat the best.''