C'Chartres Blitz Men Master 2020
June 20, 2020
Covering the various Magnus Carlsen online tournaments recently I have wondered what Ivanchuk, Maghsoodloo, Keymer and Firouzja were doing. It turns out that I just missed them in a recent tournament!
From Mark Crowther in The Week In Chess:
C'Chartres Blitz Men Master 2020
The C'Chartres Blitz Men Master was a two day event taking place on the Europe Echecs server 13th to 14th June 2020. Saturday saw a 16 player round robin and Sunday a knockout among the top 8 finishers. Players: Alireza Firouzja, Vassily Ivanchuk, Parham Maghsoodloo, Maxime Lagarde, Rauf Mamedov, Romain Edouard, Christian Bauer, Noel Studer, Dommaraju Gukesh, Vincent Keymer, Namig Guliyev, Zoltan Medvegy, Volodar Murzin, Daniel Dardha, Victor Stephan and Marc Andria Maurizzi.
Alireza Firouzja dominated the event winning the round robin with 13/15 two points clear of second placed Maghsoodloo Parham and then he won the knockout section beating Maxime Lagarde, Vasyl Ivanchuk and Maghsoodloo in the final.
https://theweekinchess.com/chessnews...en-master-2020
The time control is 3 minutes +2 seconds per move.
The standings in the prelim, 16 players, 15 rounds:
Saturday, June 13
| | | | | | | |
| --- | --- | --- | --- | --- | --- | --- |
| - | | | | | | |
| - | - | | - | | - | |
| Rk | | Name | | Rtg | | Pts |
| - | | Name | | Rtg | | Pts |
| 1 | | Firouzja Alireza | | 2728 | | 13 |
| 2 | | Maghsoodloo Parham | | 2676 | | 11 |
| 3 | | Bauer Christian | | 2623 | | 10 |
| 4 | | Ivanchuk Vassily | | 2678 | | 9.5 |
| 5 | | Mamedov Rauf | | 2654 | | 8 |
| 6 | | Murzin Volodar | | 2465 | | 8 |
| 7 | | Guliyev Namig | | 2529 | | 7.5 |
| 8 | | Lagarde Maxime | | 2655 | | 7 |
| 9 | | Maurizzi Marc Andria | | 2433 | | 7 |
| 10 | | Dardha Daniel | | 2449 | | 7 |
| 11 | | Edouard Romain | | 2649 | | 6.5 |
| 12 | | Medvegy Zoltan | | 2524 | | 6.5 |
| 13 | | Stephan Victor | | 2439 | | 5.5 |
| 14 | | Gukesh Dommaraju | | 2563 | | 5 |
| 15 | | Keymer Vincent | | 2558 | | 4.5 |
| 16 | | Studer Noel | | 2580 | | 4 |
| - | | | | | | |
There were quarterfinals with the top four being Ivanchuk, Firouzja, Maghsoodloo and Bauer. So, in the semis these matches:
Firouzja-Ivanchuk 2.5-1.5
Maghsoodloo-Bauer 3-1
The games:
Semi-finals, 3+2
Game 1, June 14
Ivanchuk, Vasyl – Firouzja, Alireza
E70 King's Indian Defence
1.d4 Nf6 2.c4 g6 3.Nc3 Bg7 4.e4 d6 5.Bd3 O-O 6.Nge2 Nc6 7.O-O Nd7 8.Be3 e5 9.d5 Ne7 10.b4 f5 11.f3 f4 12.Bf2 g5 13.c5 Ng6 14.cxd6 cxd6 15.Nb5 Nf6 16.Rc1 Rf7 17.Qc2 Ne8 18.Nxa7 Bd7 19.Bb5 g4 20.Kh1 g3 21.Bg1 gxh2 22.Bf2 Qg5 23.Bxd7 Rxd7 24.Qa4 Nf6 25.Rc8+ Rxc8 26.Nxc8 Bf8 27.Qc2 Rg7 28.Nc1 h5 29.Nb6 Ne7 30.Be1 h4 31.Kxh2 Nh5 32.Nd3 Ng3 33.Rg1 Kh7 34.Nc4 Ng8 35.a4 Nf6 36.a5 Qh5 37.Nf2 h3 38.Nxh3 Kg8 39.b5 Nh7 40.Rh1 Ng5 41.Bxg3 Nxf3+ 42.gxf3 Rxg3 43.Qg2 Rxg2+ 44.Kxg2 Qh4 45.Nf2 Qd8 46.a6 bxa6 47.bxa6 Qc7 48.Ra1 Qa7 49.Nb6 Kf7 50.Nc8 Qd4 51.Ra2 Qc4 52.Ra5 Qxc8 53.a7 Qa8 54.Nd3 Be7 55.Nb4 Bd8 56.Ra6 Bb6 57.Rxb6 Qxa7 58.Rxd6 Qe3 59.Nc6 Qe2+ 60.Kg1 Qe1+ 61.Kg2 Qg3+ 62.Kf1 Qxf3+ 63.Ke1 Qxe4+ 64.Kd2 f3 65.Rd7+ Kf6 66.Rd8 Kg7 67.Rd7+ Kf6 68.Rd8 Qe2+ 69.Kc3 f2 70.Rf8+ Kg7 71.Rf5 Qe3+ 72.Kb4 Qe4+ 73.Kc5 Qxf5 74.Kd6 f1=Q 75.Ke7 Qf8+ 76.Ke6 Q1f6+ 77.Kd7 Q6d6# 0-1
Final Position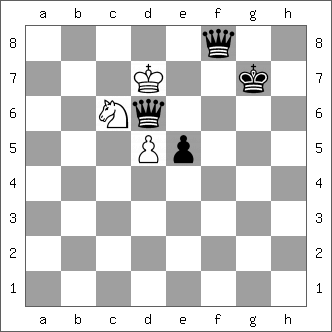 Semifinals
Game 2, June 14
Firouzja, Alireza – Ivanchuk, Vasyl
A48 King's Indian, London System
1.d4 Nf6 2.Nf3 g6 3.Bf4 d6 4.e3 Nh5 5.Bg5 h6 6.Bh4 g5 7.Nfd2 Ng7 8.Bg3 Nf5 9.c3 h5 10.e4 Nxd4 11.cxd4 h4 12.Nc3 hxg3 13.fxg3 Bg7 14.Bc4 Bxd4 15.Nf3 Bxc3+ 16.bxc3 e6 17.O-O Nc6 18.Bb5 Bd7 19.Qd2 Rg8 20.e5 Qe7 21.Rad1 O-O-O 22.exd6 cxd6 23.Qe3 Kb8 24.Rb1 g4 25.Nd2 Ne5 26.a4 Rc8 27.Rf4 Rc7 28.Rfb4 Bxb5 29.Rxb5 Rgc8 30.Qe4 Qd7 31.a5 Qc6 32.Qb4 Ka8 33.Nf1 a6 34.Rb6 Qc5+ 35.Qxc5 dxc5 36.Ne3 Rd8 37.h4 gxh3 38.gxh3 Rd3 39.Kf2 Rxc3 40.h4 Ra3 41.h5 Ra2+ 42.Kf1 c4 43.R1b2 Ra1+ 44.Rb1 Ra3 45.Ke2 c3 46.Rc1 Ra2+ 47.Rc2 Ra1 48.Rb3 Rh1 49.Rcxc3 Rh2+ 50.Kf1 Rxc3 51.Rxc3 Rxh5 52.Rc5 Kb8 53.Kg2 Rg5 54.Rc3 Nc6 55.Rd3 Rxa5 56.Rd7 Ne5 57.Re7 Rc5 58.Nd1 b5 59.Nf2 a5 60.Ne4 Rc6 61.Re8+ Rc8 62.Re7 Rc7 63.Re8+ Kb7 64.Rh8 a4 65.Rh5 f5 0-1
Semifinals
Game 3, June 14
Ivanchuk, Vasyl – Firouzja, Alireza
A49 King's Indian, Fianchetto
1.d4 Nf6 2.Nf3 g6 3.g3 Bg7 4.Bg2 O-O 5.O-O d6 6.Nc3 d5 7.Re1 b6 8.e4 dxe4 9.Nxe4 Nxe4 10.Rxe4 Bb7 11.Re1 e6 12.Bg5 Qc8 13.Qd2 Re8 14.Bh6 Bh8 15.c4 Nc6 16.Rad1 Ne7 17.Bf4 c5 18.dxc5 Qxc5 19.b3 Bf6 20.Ng5 Bxg2 21.Kxg2 Qc6+ 22.Ne4 Rad8 23.Qxd8 Rxd8 24.Rxd8+ Kg7 25.Rd6 Qb7 26.f3 Nf5 27.Rd3 Bb2 28.Red1 h6 29.Rd7 Qa6 30.a4 e5 31.Bd2 Qc8 32.Rxa7 Bd4 33.Re1 b5 34.c5 bxa4 35.Rxa4 Qc6 36.Ra5 g5 37.h3 Qd5 38.Rb5 Ne7 39.Rb6 Qa8 40.c6 Qa2 41.c7 Bxb6 42.Re2 Qa6 43.Re1 Bxc7 44.Bc3 Nd5 45.Bb2 Qd3 0-1
Semifinals
Game 4, June 14
Firouzja, Alireza – Ivanchuk, Vasyl
A81 Dutch Defence
1.d4 f5 2.g3 Nf6 3.Bg2 g6 4.Nd2 Nc6 5.d5 Ne5 6.e4 fxe4 7.Nxe4 Nxe4 8.Bxe4 d6 9.Nf3 Bg4 10.h3 Bxf3 11.Bxf3 Nxf3+ 12.Qxf3 Bg7 13.c3 Qd7 14.Be3 Qf5 15.Qxf5 gxf5 16.O-O-O Kd7 17.Rhe1 c6 18.Bd4 Rhg8 19.Bxg7 Rxg7 20.Rd4 cxd5 21.Rxd5 Rf8 22.Rd4 Rg6 23.a4 Rh6 24.h4 f4 25.Rb4 b6 26.a5 fxg3 27.fxg3 Re6 28.Rxe6 Kxe6 29.axb6 axb6 30.Rxb6 Rg8 31.Rb5 Rxg3 32.Rh5 Rg7 33.b4 Kd7 34.Kd2 Kc6 35.c4 e5 36.Rh6 Rg4 37.c5 Rxb4 38.cxd6 Rd4+ 39.Ke3 Rxd6 40.Rxh7 Kd5 41.Ra7 Ke6 42.h5 Kf5 43.Rf7+ Kg5 44.Ke4 Kxh5 45.Kxe5 Rd1 46.Rf4 Kg6 47.Rd4 Rxd4 48.Kxd4 1/2-1/2
Firouzja-Ivanchuk 2.5-1.5
Semifinals
Game 1, June 14
Maghsoodloo, Parham – Bauer, Christian
C02 French, Advance, Milner-Barry Gambit
1.e4 e6 2.d4 d5 3.e5 c5 4.c3 Nc6 5.Nf3 Qb6 6.a3 f6 7.Bd3 c4 8.Bc2 fxe5 9.dxe5 Nh6 10.Qe2 Nf7 11.O-O Bd7 12.Nbd2 Qc7 13.Re1 g5 14.h3 Bg7 15.Nf1 h6 16.Ng3 O-O-O 17.Nh5 Bxe5 18.Bg6 Be8 19.g4 Bd6 20.Qxe6+ Kb8 21.Nf6 Nfe5 22.Nxe5 Nxe5 23.Nxe8 Rhxe8 24.Bxe8 Nf3+ 25.Kg2 Nxe1+ 26.Qxe1 Bc5 27.Qe6 a6 28.Be3 Bxe3 29.Qxe3 1-0
Semifinals
Game 2, June 14
Bauer, Christian – Maghsoodloo, Parham
A06 Reti, Old Indian Attack
1.Nf3 d5 2.d3 c6 3.Nc3 Bg4 4.e4 e6 5.h3 Bh5 6.Be2 Bd6 7.O-O Ne7 8.Ng5 Bxe2 9.Qxe2 h6 10.Nf3 Nd7 11.Nd1 O-O 12.c4 a5 13.Ne3 a4 14.Ng4 Ng6 15.e5 Be7 16.cxd5 exd5 17.Bxh6 gxh6 18.Nxh6+ Kh7 19.Nf5 Nf4 20.Qc2 Rg8 21.g3 Rg6 22.h4 Nc5 23.Kh2 Nfxd3 24.h5 Rg4 25.Rad1 Nb4 26.Qb1 Kh8 27.a3 Nba6 28.Nh6 Rg7 29.Qf5 Qe8 30.Nd4 Ne4 31.Ng4 Rg5 32.Qf3 Nac5 33.Kg2 Ne6 34.Nf5 Qf8 35.Rh1 Re8 36.Rde1 f6 37.Rxe4 dxe4 38.Qxe4 Nc5 39.Qf4 fxe5 40.Qxe5+ Kh7 41.Nge3 Bd8 42.Qd4 Ne6 43.Qd3 Kh8 44.Kf1 Bf6 45.Nh4 Rd8 46.Ng6+ Kg7 47.Nxf8 Rxd3 48.Nxe6+ Kh7 49.Nxg5+ Bxg5 50.Ke2 Rb3 51.Nd1 Bf6 52.Rg1 Bxb2 53.Nxb2 Rxb2+ 54.Kf3 Rb3+ 55.Kg4 Rxa3 56.Re1 Rb3 57.Re7+ Kh8 58.Kg5 1-0
Semifinals
Game 3, June 14
Maghsoodloo, Parham – Bauer, Christian
B00 KP, Nimzowitsch Defence
1.e4 Nc6 2.Nf3 d6 3.d4 Nf6 4.Nc3 g6 5.Be2 Bg7 6.O-O O-O 7.h3 a6 8.a4 e5 9.dxe5 dxe5 10.Bc4 h6 11.Be3 Qxd1 12.Rfxd1 Be6 13.Bxe6 fxe6 14.Ne1 Rfd8 15.f3 Nd4 16.Kf2 Ne8 17.Ne2 c5 18.a5 Nd6 19.Ra4 Rf8 20.Ng3 h5 21.Kg1 h4 22.Nf1 Rad8 23.Rd2 c4 24.Bg5 Bf6 25.Bxf6 Rxf6 26.Ne3 Rff8 27.Nxc4 Nf7 28.Ne3 Ng5 29.Kh1 Nc6 30.Rxd8 Rxd8 31.Nd3 Nf7 32.Kg1 Rd4 33.Rxd4 exd4 34.Nc4 e5 35.Kf2 g5 36.g3 hxg3+ 37.Kxg3 Kg7 38.Nc5 Nfd8 39.Nd7 Nf7 40.Nc5 Nfd8 41.Kg4 Kg6 42.Nd3 Nf7 43.b4 Nh6+ 44.Kg3 Nf7 45.Kf2 Kf6 46.Kg2 Nfd8 47.Nd6 Ke6 48.Nc4 Kf6 49.Kg3 Ne6 50.Nd6 Ncd8 51.Kg4 Nc7 52.Nc5 Nb5 53.Nxb5 axb5 54.Nxb7 Nc6 55.a6 Kg6 56.Nd8 Na7 57.Ne6 Kf6 58.Nxg5 Nc6 59.h4 d3 60.cxd3 1-0
Semifinals
Game 4, June 14
Bauer, Christian – Maghsoodloo, Parham
A13 English Opening, Agincourt variation
1.Nf3 d5 2.c4 e6 3.e3 Nf6 4.Nc3 a6 5.b3 Be7 6.Bb2 O-O 7.g4 Nc6 8.g5 Ne4 9.h4 f5 10.cxd5 Nb4 11.dxe6 c5 12.a3 Nd3+ 13.Bxd3 Qxd3 14.Ne5 Qd6 15.Nxe4 fxe4 16.Qc2 Bxe6 17.Rg1 Rad8 18.h5 Rf5 19.Nc4 Qh2 20.O-O-O Rd3 21.f4 Qxh5 22.g6 h6 23.Bc3 b5 24.Ne5 Rxe5 25.fxe5 Bd5 26.Rdf1 Qh3 27.b4 Qe6 28.Qd1 cxb4 29.axb4 Qc6 30.Rf7 Bxb4 31.Rgf1 Rxc3+ 32.dxc3 Qxc3+ 33.Qc2 Qa1+ 34.Qb1 Qc3+ 35.Kd1 Qd2# 0-1
Final Position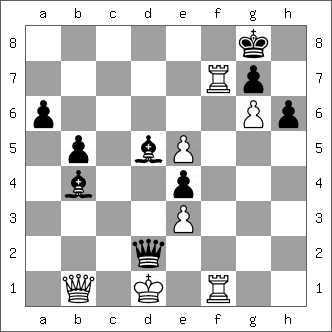 Maghsoodloo-Bauer 3-1
(to be continued)