Legends of Chess 2020
July 25, 2020
Preliminaries
Round Five
Ivanchuk is the subject of the profile on chess24 today.
https://chess24.com/en/read/news/vas...k-chess-genius
Excerpts from that article:
Vasyl Ivanchuk has spent three decades as one of the world's best loved chess grandmasters — and one of the most feared by his colleagues. At his best Ivanchuk was always as good as anyone, and when he beat Kasparov, Karpov, Anand and Gelfand on the way to winning Linares 1991 as a 21-year-old it seemed he was the heir apparent to Garry Kasparov's crown. That never came to pass, but the eccentric Ukrainian will be one of the most eagerly followed participants in the chess24 Legends of Chess.
Name: Vasyl Ivanchuk
Born: Kopychyntsi, Ukraine, 18 March, 1969
Age: 51 years old
Current ratings: 2678 (classical), 2686 (rapid), 2710 (blitz)
Peak rating: 2787 (October 2007, aged 38)
World rank: 59
World Championship: Runner-up in the 2001-2 FIDE World Championship, 2011 World Cup semi-finalist – qualifying for the 2013 Candidates
Individual Tournaments (1st place): Linares (1989, 1991, 1995 – 1999 tied for 1st with Grischuk, who took the title on the tiebreak of most wins), Biel (1989), Manila Interzonal (1990), Tilburg (1990), Wijk aan Zee (1996), European Championship (2004), World Blitz Championship (2007), Tal Memorial (2008 – also the Blitz), Gibraltar (2011), World Rapid Championship (2016), Capablanca Memorial (2005, 2006, 2007, 2010, 2011, 2012, 2014, 2016, 2019)
Team Tournaments: 14 consecutive Olympiads, 2 for the USSR, 12 for Ukraine – 4 team golds, combined team and individual gold in 2010, 8 World Team Championships, team & individual gold for the USSR in 1989, 2 more individual golds and 1 team gold for Ukraine.
Ivanchuk has long been considered a genius (88% voted in favour under Vlad Tkachiev's article Is Ivanchuk a genius?), and in 2009 was encouraged to talk about other geniuses in chess, as reported by Yury Vasiliev:
A local journalist asked the "genius Ivanchuk" (as she put it) about who he considers chess geniuses. Vasily said it was a complicated question. And then he began to name names:
— Capablanca, definitely. Fischer, also.
A pause.
— Alekhine? someone suggested.
— Yes. Alekhine was "approved" by Vasily.
— Kasparov?
— Yes
— Karpov?
— No
— And Tal?
— A mystery. I can't give a clear answer yes or no. I don't understand Tal.
— Among women?
— Judit Polgar
— And Magnus Carlsen?
— A big talent. But I wouldn't be confident of calling him a genius.
Eleven years later, he said he regarded Carlsen as a great sportsman and fighter but still wouldn't admit the he is a genius.
Game 1, July 25
Nepomniachtchi, Ian – Svidler, Peter
C84 Ruy Lopez, Closed
1.e4 e5 2.Nf3 Nc6 3.Bb5 a6 4.Ba4 Nf6 5.O-O Be7 6.d3 d6 7.c3 O-O 8.h3 Re8 9.Re1 h6 10.Nbd2 Bf8 11.d4 b5 12.Bc2 Bb7 13.d5 Nb8 14.c4 c6 15.b3 Qc7 16.Nf1 Nbd7 17.Be3 Rec8 18.Bd3 bxc4 19.bxc4 cxd5 20.cxd5 Nc5 21.Bxc5 Qxc5 22.N1d2 Nd7 23.Rb1 Qc7 24.Nc4 Rcb8 25.Bf1 Bc8 26.Rc1 Nc5 27.Nfd2 Bd7 28.h4 a5 29.Re3 a4 30.Be2 Qd8 31.g3 Rb7 32.Bg4 Bb5 33.Kg2 Rab8 34.Qf3 Be7 35.Rec3 Ba6 36.R1c2 Rb4 37.Bh3 R4b7 38.Kh2 Rb4 39.Kg2 R4b7 40.Nf1 Bxc4 41.Rxc4 Rb2 42.Ne3 Rxc2 43.Rxc2 Rb4 44.Nc4 Bf8 45.h5 Qb8 46.Bf5 Rb1 47.Nd2 Rb2 48.Qc3 Rxc2 49.Qxc2 Be7 50.Nc4 Qb4 51.Bg4 g6 52.Be2 Kg7 53.Kf1 Qb8 54.Na5 a3 55.Nc4 Qb4 56.hxg6 fxg6 57.Qc1 Nxe4 58.Qxa3 Qxa3 59.Nxa3 Nc3 60.Bc4 Bd8 61.Bb3 Bb6 62.Nc4 Bc5 63.Kg2 Nxd5 64.Nxd6 Nf4+ 65.gxf4 Bxd6 66.fxe5 Bxe5 1/2-1/2
Game 2, July 25
Svidler, Peter – Nepomniachtchi, Ian
A33 English, symmetrical variation
1.Nf3 Nf6 2.c4 c5 3.Nc3 Nc6 4.d4 cxd4 5.Nxd4 e6 6.a3 Be7 7.e4 O-O 8.Nf3 Qa5 9.Bd2 Qh5 10.Be2 d5 11.exd5 exd5 12.cxd5 Nxd5 13.O-O Nxc3 14.Bxc3 Qg6 15.Bd3 Bf5 16.Bxf5 Qxf5 17.Qb3 b6 18.Rad1 Rad8 19.Qa4 Rxd1 20.Rxd1 Rc8 21.h3 h6 22.Qg4 Qxg4 23.hxg4 Rd8 24.Rxd8+ Bxd8 25.Nd4 Nxd4 26.Bxd4 f6 27.f3 Kf7 28.Kf2 Ke6 29.Ke3 Kd5 30.Kd3 a6 31.a4 b5 32.axb5 axb5 33.b3 Be7 34.Be3 Bf8 35.Bd2 Be7 36.Be3 Bf8 37.Bd2 Be7 38.Be3 1/2-1/2
Game 1, July 25
Carlsen, Magnus – Ivanchuk, Vasyl
E11 Bogo-Indian, Grunfeld variation
1.d4 Nf6 2.c4 e6 3.Nf3 Bb4+ 4.Nbd2 O-O 5.a3 Be7 6.e4 d6 7.Be2 Nfd7 8.Nb1 d5 9.Nc3 dxe4 10.Nxe4 Nf6 11.Qc2 Nbd7 12.Neg5 c5 13.Be3 Qa5+ 14.Kf1 Qc7 15.Rd1 b6 16.Ne5 Nxe5 17.dxe5 Qxe5 18.Bf3 Rb8 19.h4 Qc7 20.Rh3 Bb7 21.Re1 Rbd8 22.Bxb7 Qxb7 23.Bd2 h6 24.Bc3 Rfe8 25.Kg1 Rd7 26.Nf3 Bd6 27.Ne5 Bxe5 28.Bxe5 Red8 29.Bc3 Qc7 30.Qc1 Ne4 31.Rf3 Nxc3 32.Qxc3 Rd4 33.g3 R8d7 34.b3 Qc6 35.Rfe3 a5 36.a4 Qd6 37.Qc2 Qc6 38.Qe2 R7d6 39.Qh5 Qd7 40.Qf3 Qd8 41.Kh2 Rd2 42.R1e2 Rxe2 43.Qxe2 Rd2 44.Qe1 h5 45.Rf3 g6 46.Qe4 Rd4 47.Qb7 Rd7 48.Qc6 Kg7 49.Kg2 Rd6 50.Qb7 Qd7 51.Qe4 f6 52.Re3 e5 53.Kh2 Rd2 54.Re2 Rd4 55.Qa8 Rd3 56.Rb2 f5 57.Qb8 Qd6 58.Qb7+ Kh6 59.Qc8 Qf6 60.Qc7 f4 61.Re2 fxg3+ 62.fxg3 e4 63.Qb8 Rxb3 64.Qe8 e3 65.Kg2 Rc3 66.Rxe3 Rxc4 67.Rf3 Qg7 68.Qe3+ Kh7 69.Qe6 Rc2+ 70.Kh3 Kh6 71.Qe3+ Kh7 72.Qe8 Kh6 73.Qe3+ Kh7 74.Qb3 Qd7+ 0-1
Ivanchuk had winning positions most of the game. Time pressure takes its toll of him and in this position Carlsen misses 73.Rf8

and then blunders into a mate in four: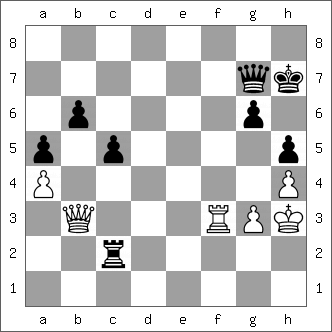 - Drama at the highest level! Carlsen after 15 games undefeated loses his first game in #ChessLegends - against the player he was most excited to face - Ivanchuk! More to come
- Wow!!! Magnus blunders last and Vasyl Ivanchuk does take the lead after all!
Game 2, July 25
Ivanchuk, Vasyl – Carlsen, Magnus
E10 Queen's Pawn game
1.d4 Nf6 2.c4 e6 3.Nf3 d5 4.Nc3 a6 5.e3 dxc4 6.a4 c5 7.Bxc4 Nc6 8.O-O cxd4 9.exd4 Be7 10.Re1 O-O 11.Bf4 Nd5 12.Bg3 Bb4 13.Rc1 Nce7 14.Qb3 a5 15.Bh4 f6 16.Bg3 Bd7 17.Re2 Rc8 18.Rcc2 Kh8 19.Nb5 Qb6 20.Bd3 Rfd8 21.h3 Be8 22.Rxc8 Rxc8 23.Rc2 Rxc2 24.Qxc2 Qc6 25.Qxc6 Bxc6 26.b3 Nf5 27.Bb8 Kg8 28.Na7 Bd7 29.Bb5 Bxb5 30.Nxb5 g5 31.Kf1 Kf7 32.Ke2 h5 33.Kd3 Kg6 34.g3 Kf7 35.Nd2 Bxd2 36.Kxd2 Ke7 37.g4 hxg4 38.hxg4 Nh4 39.Bg3 Kd7 40.Ke2 Ng6 41.f3 Ngf4+ 42.Kd2 f5 43.Na3 fxg4 44.fxg4 Nf6 45.Ke3 Nxg4+ 46.Kf3 Nh6 47.Bxf4 gxf4 48.Kxf4 Nf5 49.Ke5 Ne7 50.Nc4 Nc6+ 51.Ke4 Kc7 52.Ne3 Kd6 53.Nc4+ Kc7 54.d5 exd5+ 55.Kxd5 b6 56.Ke4 Nb4 57.Kd4 Nc6+ 58.Kc3 Nb4 59.Kd4 Nc6+ 60.Kc3 Nb4 61.Kd4 1/2-1/2
Game 1, July 25
Kramnik, Vladimir – Ding, Liren
B92 Sicilian, Najdorf, Opocensky variation
1.e4 c5 2.Nf3 d6 3.d4 cxd4 4.Nxd4 Nf6 5.Nc3 a6 6.Be2 e5 7.Nb3 Be7 8.Be3 Be6 9.Qd3 O-O 10.O-O Nbd7 11.a4 Rc8 12.a5 Qc7 13.Rfd1 Rfd8 14.Bf3 Nc5 15.Nxc5 dxc5 16.Nd5 Nxd5 17.exd5 f5 18.Qb3 Bf7 19.d6 Bxb3 20.dxc7 Rxd1+ 21.Rxd1 Be6 22.Bxb7 Rxc7 23.Bf3 Kf7 24.g3 g5 25.Bh5+ Kf6 26.f4 gxf4 27.gxf4 e4 28.Kf2 Kg7 29.Be2 c4 30.Bb6 Rc8 31.Ke3 Kf7 32.Bh5+ Kf8 33.Bd4 Rc7 34.c3 Rd7 35.Be2 Kf7 36.h4 Rb7 37.Rg1 Bf6 38.Bb6 Rb8 39.h5 Bd5 40.h6 Ke6 41.Bh5 Kd6 42.Rd1 Kc6 43.Rg1 Be6 44.Bd4 Bxd4+ 45.Kxd4 Rxb2 46.Ke5 Bd7 47.Rh1 Rg2 48.Bf7 Kc5 49.Bd5 Rg3 50.Bf7 e3 51.Re1 Rh3 52.Rxe3 Rxe3+ 0-1
Game 2, July 25
Ding, Liren – Kramnik, Vladimir
E10 Queen's Pawn game
1.d4 Nf6 2.c4 e6 3.Nf3 d5 4.Nc3 Nbd7 5.Qc2 dxc4 6.e4 Nb6 7.Be3 Bb4 8.Be2 Bd7 9.O-O Bxc3 10.bxc3 Ba4 11.Qb1 Bc6 12.Nd2 Na4 13.Qc2 b5 14.Rad1 Qe7 15.Rfe1 O-O 16.f3 h6 17.Qc1 a5 18.Nf1 Rfd8 19.Ng3 Be8 20.d5 Nd7 21.Bf1 Ndc5 22.e5 Rxd5 23.Nf5 exf5 24.Rxd5 Ne6 25.Bf2 Bc6 26.Rd2 f4 27.Rdd1 Qg5 28.Kh1 Qf5 29.h3 Re8 30.Rd2 Qg5 31.Qc2 Qe7 32.Qc1 Rd8 33.Rxd8+ Qxd8 34.Kh2 Qe7 0-1
- Vladimir Kramnik won when Ding Liren disconnected and lost on time in a bad position - the only decisive result of the 2nd games of Round 5, though Leko and Anand both missed wins!
Game 1, July 25
Giri, Anish – Gelfand, Boris
B22 Sicilian, Alapin's variation
1.e4 c5 2.c3 Nf6 3.e5 Nd5 4.Bc4 Nb6 5.Bb3 c4 6.Bc2 d6 7.exd6 Qxd6 8.Na3 g6 9.b3 cxb3 10.axb3 Bg7 11.Nf3 Nc6 12.O-O O-O 13.Nc4 Qc7 14.Nxb6 Qxb6 15.d4 Qc7 16.Re1 b5 17.Bg5 e6 18.Be4 Bb7 19.Qd3 f5 20.Bxc6 Qxc6 21.h4 a5 22.c4 bxc4 23.bxc4 a4 24.c5 Qd5 25.Ra3 Bc6 26.Qe3 Rfe8 27.Bh6 Bf6 28.Bg5 Bg7 29.Bh6 Bf6 30.Bg5 Bg7 1/2-1/2
Game 2, July 25
Gelfand, Boris – Giri, Anish
A07 Reti, King's Indian Attack
1.Nf3 d5 2.g3 g6 3.Bg2 Bg7 4.O-O e5 5.d3 Nc6 6.e4 dxe4 7.dxe4 Qxd1 8.Rxd1 Bg4 9.c3 Nf6 10.Nbd2 O-O-O 11.h3 Bd7 12.Re1 Ne8 13.Nc4 Be6 14.Bf1 f6 15.Be3 Nd6 16.Nxd6+ Rxd6 17.b4 Kb8 18.Nd2 Nd8 19.Nb3 Nf7 20.Nc5 Bc8 21.h4 Bh6 22.f4 Rdd8 23.a4 Rhe8 24.a5 Nd6 25.Rad1 b6 26.axb6 cxb6 27.Na6+ Bxa6 28.Bxa6 Nxe4 29.Rxd8+ Rxd8 30.Bxb6 axb6 31.Rxe4 Re8 32.Bb5 Re7 33.fxe5 Rxe5 34.Rxe5 fxe5 35.Bc4 Bd2 36.Bg8 h6 37.c4 Bxb4 38.Bh7 g5 39.hxg5 hxg5 40.Kf2 Kc7 41.Kf3 Kd6 42.Ke4 Be1 43.g4 Bd2 44.Bg8 Bf4 45.Bf7 Kc5 46.Bg8 Kd6 1/2-1/2
(to be continued)