Re: Games from Recent Events
Games from Recent Events
January 8, 2018
https://en.chessbase.com/post/which-...best-game-2017
ChessBase has a poll for
the top game of 2017
. These are the contenders. The list goes from the most popular to the least.
Bai-Ding 0-1 CHN chT x
Aronian-Carlsen 1-0 Norway Chess x
Wagner-Nikolic 1-0 SchachBundesliga
Anand-Caruana 1-0 Sinquefield x
Kramnik-Harikrishna 1-0 Gashimov Memorial x
Morozevich-Ponomariov 1-0 Biel x
Caruana-Carlsen 0-1 IofM x
Xiong-So 0-1 USA Ch x
Aronian-Naiditsch 1-0 GRENKE Classic x
Rapport-Wei 0-1 Tata SteelA
Eight of the ten games have been given on this forum in the write-ups of the various tournaments. These are marked with an x.
The two not given before:
Bundesliga 2016-17
Solingen, Germany
Round 9, March 18, 2017
Wagner, Dennis – Nicolic, Predrag
E20 Nimzo-Indian, Kmoch variation
1.d4 Nf6 2.c4 e6 3.Nc3 Bb4 4.f3 d5 5.a3 Bxc3+ 6.bxc3 h6 7.cxd5 exd5 8.e3 Bf5 9.Ne2 O-O 10.g4 Bh7 11.h4 Ne8 12.Nf4 Nc6 13.g5 hxg5 14.hxg5 Qxg5 15.Ra2 Qd8 16.Rah2 Nf6 17.Qc2 g6 18.Rxh7 Nxh7 19.Qh2 Re8 20.Qxh7+ Kf8 21.Qh6+ Ke7 22.Qg5+ 1-0
Position after Black's 14th move: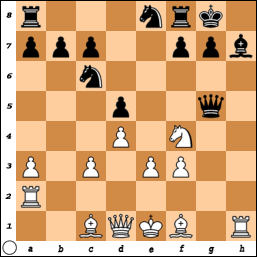 - What a position! After only 14 moves the second rank is completely free of white pawns
See:
http://schachbundesliga.de/bundeslig...-saison-201617
Tata Steel Masters 2017
Round 6, Jan. 20, 2017
Rapport, Richard – Wei, Yi
C42 Petrov, Paulsen Attack
1.e4 e5 2.Nf3 Nf6 3.Nxe5 d6 4.Nc4 Nxe4 5.Qe2 Qe7 6.Ne3 Be6 7.Nc3 Nf6 8.g3 Nc6 9.Bg2 Qd7 10.b4 d5 11.b5 Nd4 12.Qd3 c5 13.O-O O-O-O 14.Re1 h5 15.h4 g5 16.b6 a6 17.hxg5 Ng4 18.Ncxd5 h4 19.Nc7 h3 20.Bxb7+ Kxb7 21.Qxa6+ Kc6 22.Nxg4 Bxg4 23.b7+ Kxc7 24.Qa5+ Kb8 25.Qa8+ Kc7 26.Qa5+ Kd6 27.Qb6+ Kd5 28.Re3 h2+ 29.Kh1 Qc6 30.Rb1 Qxb6 31.Rxb6 Bd6 32.Bb2 Rde8 0-1
Position after Black's 32nd move: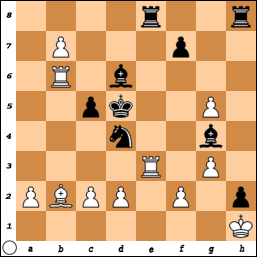 - haha king on d5. Lovely
- and white has no pieces to attack this crazy king